Time/Date: Unfortunately this has been postponed because of weather conditions. This will be updated as soon as we know the next date/time!
Location: Wilcox Library – Auditorium (44 Broad St, Westerly)
Join us to learn about exciting new developments including Gateway mental health workers staffing 68 Pierce St in Westerly. We expect other mental health providers and organizations to be at this town forum as well. Congratulations to Town Council Member Mary Scialabba for leading this effort!
August 3rd Town Hall on Education & Workforce Development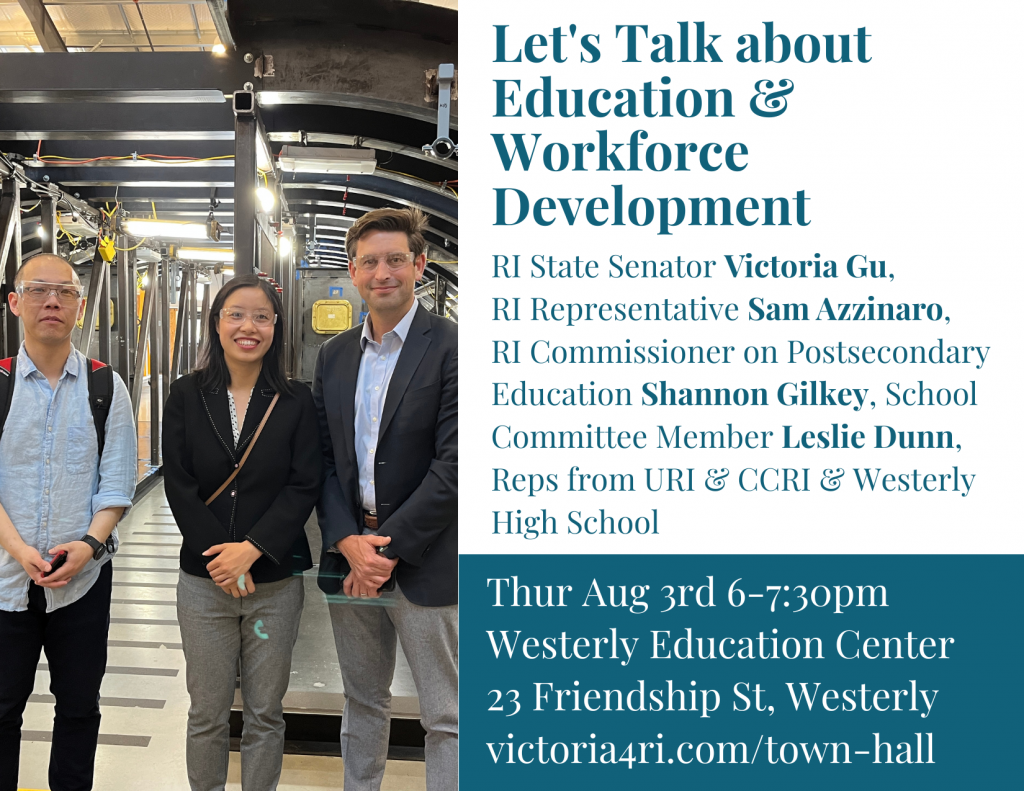 Recap: 
Thank you so much to the panelists who represented a lot of different perspectives (students, school committee, K-12 educators, and university educators) at our Workforce Development town hall at the Westerly Education Center on August 3rd. Afterwards, some professionals from different industries contacted us to get involved in trainings, demos, or other efforts at local schools. If this is something you're interested in, feel free to reach out to me!
Workforce development means preparing high school students or adults to train up or retool their skillsets for jobs that are in high demand. That is one of the focuses of the RI Office of Postsecondary Education, which runs the Westerly Education Center right here in our community. 


RSVP below and submit questions or feedback
May 20th Town Hall on Mental Health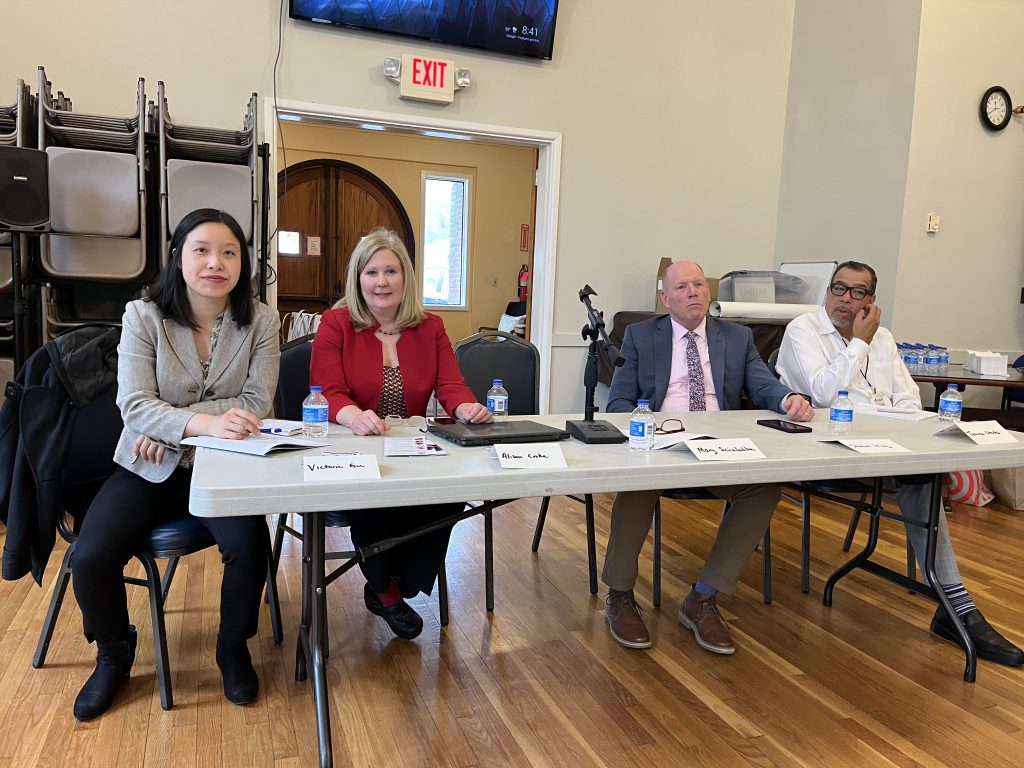 I'm very grateful to Westerly Town Council member Mary Scialabba for hosting a thoughtful Mental Health Forum on May 20th. We heard from Town Manager Shawn Lacey, who was also Westerly's police chief, and he testified that the vast majority of the calls they responded to are mental-health related. We also heard from members of the community who've gone through mental health struggles as well as teachers who witness these struggles in their students or their students' families. 
We also heard from Wood River Health's Alison Croke. Although Wood River Health is in Hope Valley, they treat a lot of patients from Westerly and have a small operation in Westerly. With the Hope Valley expansion, they hope to increase their mental health offerings. As a state, we've invested in community-based mental health infrastructure and Wood River Health is a grant recipient.
As issues concerning mental health continue to rise, I will continue to push bills that will ensure that services are available in our community (for example, school-based mental health for students). Both of these bills passed in the House and Senate and became law this June.
● A bill I co-sponsored: S-0869 AN ACT RELATING TO HUMAN SERVICES — MEDICAL ASSISTANCE — THE PROMOTING ACCESS TO INCREASED MENTAL HEALTH SERVICES FOR ALL STUDENTS ACT – Directs that services provided by school social workers and certified school psychologists would be included as health care-related services eligible for federal Medicaid reimbursement
● H-5881 AN ACT RELATING TO STATE AFFAIRS AND GOVERNMENT — POLICE OFFICERS – COMMISSION ON STANDARDS AND TRAINING (passed by Senate) – Requires police training on recognizing the possible existence of mental health disorders and substance use disorders and requires certified crisis intervention team training for all officers
March 27th Town Hall on Housing Issues
Thank you to everyone who joined and submitted questions for our March 27th town hall meeting about housing issues and proposed state legislation. I apologize for not having the video because of a livestreaming glitch. I posted the slides below. AARP's Matthew Netto talked about how Accessory Dwelling Units can help seniors, families, and young adults have flexible and affordable housing options. Russ Partridge from the WARM Center and Mark Gordon, the homeless liason for Westerly Public Schools, talked about their work to help people in the community who are experiencing housing insecurity. Town Council Vice President Kevin Lowther talked about Westerly's affordable housing plan, which is part of the comprehensive plan. Town Council President Ed Morrone talked about projects in the pipeline and the Westerly affordable housing committee, which should be appointed soon. Contact a Westerly town council member if you are interested!
Credit to HousingWorksRI for most of the slides in the presentation below and the housing data they provided.
Watch the Jan 25th Town Hall on Shoreline Access
RI State Senator Victoria Gu, Westerly Town Councilmember Joy Cordio, and State Representatives Tina Spears and Brian Kennedy came together for a town hall event to discuss shoreline access. It took place Wednesday, January 25th, 6pm – 7:30pm, at the Westerly Town Hall. The first 45 minutes included updates on state and town issues and open Q&A, and then we discussed shoreline access issues and heard from special guests Topher Hamblett (Director of Advocacy at Save the Bay), Mike Woods (New England Chair of Backcountry Hunters & Anglers), and Leah Feldman (Coastal Policy Analyst at the Coastal Resources Management Council).